Artist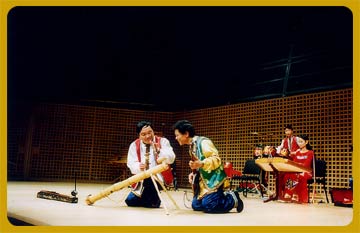 Phan Kim Thanh attended the Hanoi National Coservertory of Music (formaly the National Music School), studying Dan Bau and traditional music theory from 1973 to 1986. He gained Bacherlor Art degree, specialize on Dan Bau Performance in 1986. He has worked for The August 19th Troupe of Art from 1986 until present. And he also be the Dan Bau teacher of Hanoi Conservertory of Music and Hanoi Cultural and Art Colledge.
Thanh was presented with many awards in performance and instrument improvement, including: Certification of Dan Bau improvement was granted by Vietnam Cultural Ministry and Musicology Research Institute in the annual Improvement of Traditional Instruments of Vietnam in 1988 in Hanoi, Vietnam;
The Golden Award at the 1989 Traditional Music Festival in Hanoi, Vietnam;
The Golden Award at the 1991 Traditional Music Competition in Kwangsi, China;
The Silver Award at the 1995 Sing, Dance and Music Competition in Haiphong, Vietnam;
The Golden Award at the 1999 Professional Traditional Music Competition in Hanoi, Vietnam;
And in 2001, he was granted to be Eminent Artist appellation by the Vietnam Government.
Thanh used to perform in many countries as China, Lao, Thailand, SEVN, North Korea, South Korea, Japan, Singapore, Malaixia, HongKong, Russia, Bulgaria, Hungaria, Poland, Rumania, Germany, the United Kingdom, France,...
Teaching and Performance
Having experiences in both Performance and Teaching music Artist Phan Kim THANH provide services as follows:
Performances upon request are
Traditional concert , folk music.
Chamber concert (Dio, Trio, Quartet, ...)
Teaching how to play
Dan Bau (mono - cord instrument), Dan Tranh (16 stringed zither), Dan Nguyet (Moon-shape lute),Sao (bamboo flute) and TíRung (Vietnamese traditional instruments) and other vietnamese traditional instruments.
Place and time:Music class can be held at your place in Hanoi, Vietnam.Time is at your convenience
Arrange in advance for worldwise performance.
Contact: Mr Phan Kim THANH (Eminent Artist)
Address : Group 8, O Cho Dua ward, Dong Da, Hanoi, Vietnam. Mobile phone: 0913505982
If you contact to Mr Thanh in English please contact through:
Mr Do Viet DUNG
E-mail: dungdoviet@yahoo.com
Tel (home): 84-4-8516569